Eser Rengin Nalbantoğlu DDS, MSD, PhD
IF THERE WEREN'T ANY CHILDREN...
If there weren't any children
I would not love life so
I wouldn't have so much hope
Nor would I have so much love in my heart
I would not be hardened against pain so.
Nor would I write these poems...
If there weren't any children
Mothers would not be so beautiful...
1993, Gaziantep
Bülent ÖZCAN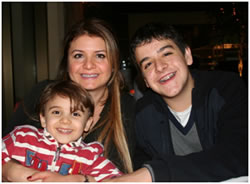 I was born in İzmir, raised in Antalya. I did my high school education at Antalya College. I received a DDS degree from Marmara University Faculty of Dentistry in 1990 graduating among the top five of my dental class.
I worked as a research fellow in Primary Children's Medical Center Pediatric Dentistry Department in 1995 on a subject of "Articulation and nasality changes resulting from sustained palatal fistula obturation".
I attended the University of Medicine and Dentistry of New Jersey for my advanced graduate study in Pediatric Dentistry between 1995 and 1997 and graduated with honor in my pediatric dental class with a thesis of "The effect of sodium fluoride on intracellular polysaccharide production in Lactabacillus salivarius".
In UMDNJ Pediatric Dentistry Advanced Graduate Study, I received my specialty training to care for the oral health and dental and facial development of infants, children and adolescents, and special needs patients and gained further experience in the management of traumatic injuries, concious sedation dentistry and dentistry under general anesthesia. This training also included a strong emphasis on interceptive and comprehensive orthodontic treatment.
I received my Master of Science in Dentistry in Pediatric Dentistry degree from Boston University Goldman Shool of Dental Medicine in 1998 with a thesis of "Isolation and analysis of sialidase-defective mutants of Streptococcus oralis".
I started my PhD program in University of London, Queen Mary's School of Medicine and Dentistry, Dept. of Oral Growth and Development, Section of Pediatric Dentistry in 2001 with a subject of "Influence of salivary proteins on kinetics of enamel and hydroxyapatite de and re-mineralisation". I received my PhD degree from Marmara University Faculty of Dentistry Pediatric Dentistry Department in 2003.
I graduated from Anadolu University, Program in Management of Health Institutions in 2012.

I have completed the training course offered by Align Technology, Inc., for being an Invisalign® provider in 2012.
I am a member of Turkish Dental Association, Istanbul Chamber of Dentists, Turkish Pediatric Dentistry Association, AAPD (American Academy of Pediatric Dentistry) ve AOS (American Orthodontic Society).
I have successfuly completed the Inman Aligner Certification Course in Dubai on 16th November 2014. I am the only one certified doctor who performs the Inman Aligner treatment to the patients in Turkey right now.
https://www.inmanaligner.com/postcode-search.php
Outside the office, I love to go on long nature walks with my family, listen classical music, read and watch everything about astronomy, animals especially stray ones, and take pictures to capture the beauty of everyday life.
Clinic Pictures